How to Incorporate the Benjamin Moore Color Trends 2020 Palette into Your Home
Each year, Benjamin Moore releases a color and palette of the year. They're able to track color trends just by seeing which of their paints is the most popular. 2020's palette features a lot of pastels and a few dark, yet calming colors. The featured color is "First Light" which looks like the first light of a new day. It represents hope and peace for this new decade.

Colors from the Benjamin Moore Color Trends 2020 Palette
Painting a wall a new color is a great way to incorporate these on-trend colors into your home, but it's not your only option. We've compiled a few of our favorite ways to bring these colors into your home that are easier and less commitment than a new wall color. The following products are not sponsored (besides our own), they're just examples that we like! Hopefully, you'll like them too.
Hardware
1" Dia. Brookline Round Knob - Polished Nickel (left) and 2" Glacier Pale Yellow Long Knob - Oil Rubbed Bronze (right)
1-1/4" Square Reflective Spruce Green Knob - Oil Rubbed Bronze (left) and 5" Glacier Rose Pull - Oil Rubbed Bronze (right)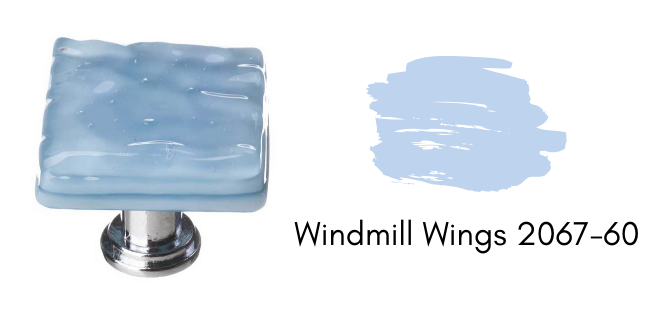 1-1/4" Square Glacier Powder Blue Knob - Polished Chrome
We're a hardware company, so we had to put some hardware in here. Handles and knobs are an easy way to bring a little color to the room without being overwhelming. If you like the color Thunder (gray), look for more nickel products. And if you like the colors of the glacier products (the yellow, pink and blue ones), those products come in different sizes and even more colors to choose from. You can search "glacier" on our site, or "glacier yellow" if you're looking for the yellow color in particular.
Throw Blankets
MantaroStripe Alpaca Throw from Serrv
A throw blanket is an easy way to change the color scheme of a room. It's also functional, especially in the cold months of winter. You can find other throw blankets at Serrv or Happy Earth. If your house already has lots of throw blankets, you can check out ways to donate some like a local Goodwill, animal shelter or homeless shelter.
Bedding
Room Service Sheet Set from Pact
Your bed should be a relaxing place, so a peaceful pink and blue/gray will help. You know you'll get use out of sheets and pillow cases, so it's a pretty safe purchase. See other sheets from Pact.
Drinkware
Wise Friend Mug from Ten Thousand Villages
Whether used for coffee or for decoration, mugs are a great way to bring color into a room in a small way. Paired with some coffee or hot chocolate, they also make a great gift for someone else. See more drinkware at Ten Thousand Villages.
Art
Abstract Shapes Light Blue and Yellow Earthy Tones Wall Art Print from wwmodern on Etsy. Used with permission of artist.
Make your own piece or support an artist by buying their work. Art can bring a new atmosphere into a room and make for great conversation. See more work from wwmodern - she also uses a lot of First Light (the pale pink) and Thunder (gray) colors in her work.
Do you have any other recommendations? Let us know in the comments!
Recent Posts
How to Incorporate the Benjamin Moore Color Trends 2020 Palette into Your HomeEach year, Benjamin M …

Repair work is a big part of cabinet making and, if you're into DIY, it's a great place for you to s …

A beautiful and unique pegboard table runner from WandeleurPegboards could certainly be describ …